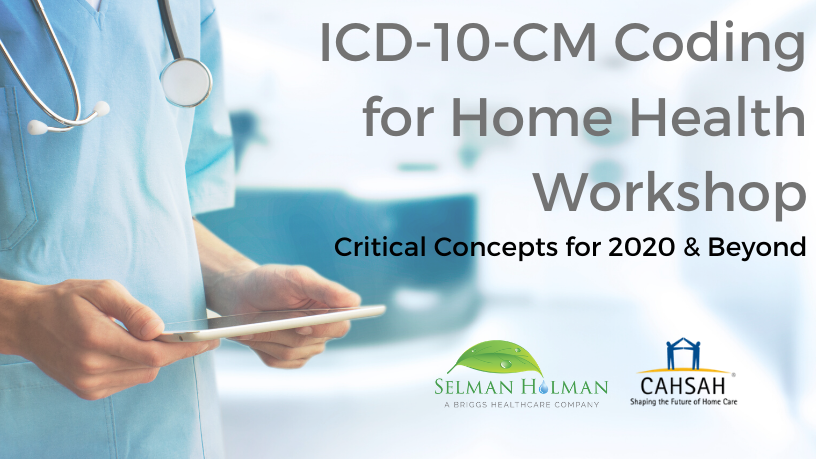 ICD-10-CM Coding for Home Health Workshop – Ontario, CA
Program Overview
Now includes what coders need to know about PDGM! Change is the name of the coding game. New codes, new tabular list changes, new guidelines and new Coding Clinic interpretations, plus new home health payment changes require us to stay ahead of the game. Increase your knowledge and understanding and gain the expertise your agency needs to survive in this comprehensive two-day intermediate coding course specific for home care coders.
Increase your understanding of the regulatory aspects and ethics of diagnosis coding and utilize lots of examples to increase your skills, proficiency, speed and accuracy in choosing the appropriate ICD-10-CM codes.
Attendees will be able to demonstrate proficiency in complex coding scenarios and be ready to tackle home care charts with confidence. We will apply Prospective Payment System reform, known as PDGM, to scenarios so that home health participants will understand payment implications and compliance issues. With government auditors targeting home care, now is the time to ensure that you are coding correctly and protecting your revenue.
Program Topics
Apply operational aspects of PDGM.
Apply specific sequencing rules as required by the conventions and Official Coding Guidelines.
Explain coding of diagnoses of infections, neoplasms, endocrine disorders such as diabetes, anemias, mental disorders, and the nervous system.
Explain coding of diagnoses of cardiorespiratory illnesses, cerebrovascular disease and GI & GU disorders.
Explain coding of diagnoses of the musculoskeletal system, injuries and poisonings, including the optional use of V, W, X and Y codes.
Describe the purpose and appropriate use of Z codes.
Use the coding manual to find codes and sequence diagnoses for home care and hospice scenarios in ICD-10-CM.
Prioritize diagnoses based on clinical assessment and planned interventions.
Additional Workshop Details
Required Resource
It is ESSENTIAL that participants bring a current ICD-10-CM Coding Manual to class to fully participate in this learning experience. Accurate code assignment is not possible without a coding manual.
The most current version of ICD-10-CM coding manual is available through the CAHSAH® Bookstore at here or by calling 916-641-5795, ext. 113.
Source documents will be reviewed at the workshop. Source documents include the current (2020) guidelines. Check your manual for the 2020 guidelines. You may download the guidelines here. This guidance will allow participants to further their education outside the class and arm them with the tools to research answers to questions that arise in their agencies. If the current guidelines are not in the coding manual, then the guidelines available at the link above may be used in testing for the HCS-D credential. Mastering coding skills takes practice and knowing where to find guidance ensures coding accuracy and regulatory compliance.
This class is designed with intermediate coders in mind.  We recommend a review of the ICD-10-CM Official Guidelines for Coding and Reporting for 2020, pages 1 -20 of the document found here prior to the workshop.  These pages describe and define the Coding Conventions (Section I.A) & General Coding Guidelines (Section I.B).  It is expected that intermediate coders already possess this foundational knowledge as it will not be the focus of this class.  Your pre-class efforts will greatly enhance your learning experience.
Who should attend
This workshop is most appropriate for intermediate coders who are familiar with the foundational concepts of coding.
Faculty
Speaker: Lisa Selman-Holman
JD, BSN, RN, HCS-D, HCS-O, COS-C
Selman-Holman & Associates, A Briggs Healthcare Company
Lisa is a veteran of home care with over 30 years spent in home health and hospice, both as an RN and as an attorney practicing exclusively in home care. She is the President of Selman-Holman & Associates, A Briggs Healthcare Company, a full-service home care and hospice consulting firm; CoDR (Coding Done Right), an outsourcing company for home care and hospice coding and OASIS review; and Code Pro U, the premier comprehensive online education for ICD-10-CM and OASIS.
She has been the Chair of the Board of Medical Specialty Coding and Compliance for the past 15 years. She is the technical editor of the Decision Health Complete Home Health ICD-10-CM Diagnosis Coding Manual. She has provided education to home health and hospice professionals since 1994. She is known for her comprehensive knowledge of home health and hospice regulations and her ability to communicate with insight and humor.
Speaker
Lisa Selman-Holman

JD, BSN, RN, HCS-D, COS-C, HCS-O, HCS-H, AHIMA ICD-10-CM Ambassador, Founder, Selman-Holman & Associates

30+ years in home care as a RN and Attorney practicing exclusively in home care. Owner, Selman-Holman & Associates, LLC & CoDR-Coding Done Right. Home Care Coding Specialist-Diagnosis (HCS-D) national advisory board for the Board of Medical Specialty Coding and Compliance (BMSCC) Board HCS-O for OASIS Competency.