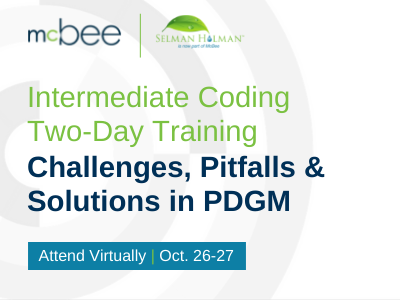 Live Stream | Intermediate ICD-10 Coding | Challenges, Pitfalls & Solutions in PDGM
Live Stream | Oct. 26-27, 2021 | 8:30 a.m – 4:30 p.m. CST | $499
Online via Live Stream
**Prefer to attend the training in-person? Click here to register for the training in Denton, TX.
---
About this Live Training
Change is the name of the coding game in 2022 and beyond. This course will include all the newest updates to coding for 2022, including new codes, new conventions, and new guidelines (October 1, 2021). CMS reports that PDGM results thus far include a higher comorbidity adjustment than expected. The proposed changes to PDGM add more diagnoses to the comorbidity adjustment lists and move diagnoses in the clinical grouper. Increased dependence on coding for payment means increased scrutiny from the government.
Increase your knowledge and understanding of PDGM related to diagnoses, as well as FTF requirements regarding diagnoses. Gain the expertise your agency needs to survive in this comprehensive two-day intermediate coding course specific for home care coders.
Increase your understanding of the regulatory aspects and ethics of diagnosis coding and utilize lots of examples to increase your skills, proficiency, speed and accuracy in choosing the appropriate ICD-10-CM codes. Attendees will be able to demonstrate proficiency in complex coding scenarios and be ready to tackle home care charts with confidence. We will apply PDGM concepts to scenarios so that home health participants will understand payment implications and compliance issues.
By the end of this training, attendees will be able to
Identify compliance issues related to coding accuracy and Patient Driven Grouper Model.
Identify new codes and guidelines effective October 1, 2021.
Explain coding of infectious diseases, diabetes, and circulatory conditions.
Explain coding of respiratory conditions, injuries, and complications.
Explain coding of aftercare and other conditions.
Additional Course Information
This class is designed with intermediate coders in mind. We recommend a review of the ICD-10-CM Official Guidelines for Coding and Reporting for 2022, pages 1 -20 of the document prior to the class. These pages describe and define the Coding Conventions (Section I.A) & General Coding Guidelines (Section I.B). It is expected that intermediate coders already possess this foundational knowledge as it will not be the focus of this class. Your pre-class efforts will greatly enhance your learning experience.
MANDATORY – You will need a current (2022) ICD-10-CM Coding Manual for this training. If you do not have a 2022 coding manual, you can purchase the book here.
NOTE – The recording will be available to all (In-person & online) registered attendees for seven (7) days following the live training. 
---
Speaker
Lisa Selman-Holman, VP, Quality & Education, McBee
Sherri Parson, Senior Manager, Post-Acute Education, McBee
Michelle Horner, Post-Acute Education Specialist, McBee
---
Continuing Education
This live training will award the following CEUs upon completion.
13.0 Contact Hours for Nurses
13.0 Administrator Hours
Meets criteria for 13.0 HCS-D Hours
McBee, a division of Netsmart Technologies, is accredited as a provider of nursing continuing professional development by the American Nurses Credentialing Center's Commission on Accreditation. 
---
Question? Contact Selman-Holman by email.