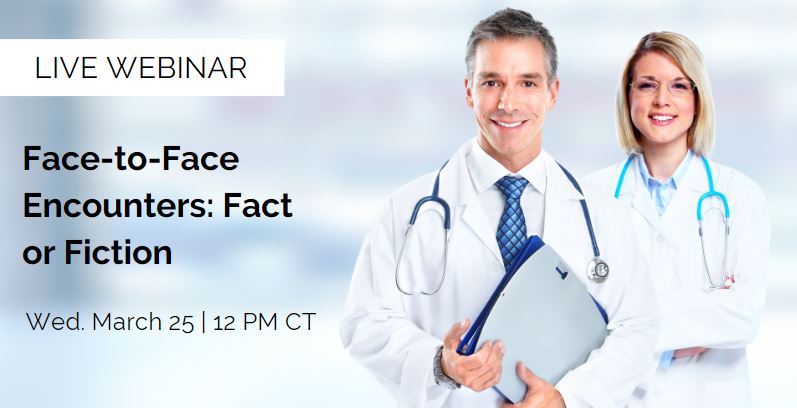 [Live Webinar] Face-to-Face Encounters: Fact or Fiction
[Live Webinar] Face-to-Face Encounters: Fact or Fiction
March 25, 2020 | 12:00 – 1:30 PM (CST)
In home health, a face-to-face encounter with a physician is a requirement to get paid, so it's imperative to understand how it works. However, there are many misconceptions and misunderstandings, such as:
A face-to-face encounter has to happen every 60 days to get paid under pre-claim review
The primary diagnosis listed on the Plan of Care always has to match what the physician documented
In this webinar, Lisa will break down face-to-face requirements into fact or fiction and discuss what works best with pre-claim review and other types of medical review.
Continuing Education:
1.0 Contact Hour for Nurses
Selman-Holman & Associates, A Briggs Healthcare Company is an approved provider of continuing nursing education by Texas Nurses Association – Approver, an accredited approver with distinction by the American Nurses Credentialing Center's Commission on Accreditation.
*All attendees will receive access to the recording
Questions? Please contact Sarah at sarah@selmanholman.com or dial 214-550-1477 Ext 7.
Speaker
Lisa Selman-Holman

JD, BSN, RN, HCS-D, COS-C, HCS-O, HCS-H, AHIMA ICD-10-CM Ambassador, Founder, Selman-Holman & Associates

30+ years in home care as a RN and Attorney practicing exclusively in home care. Owner, Selman-Holman & Associates, LLC & CoDR-Coding Done Right. Home Care Coding Specialist-Diagnosis (HCS-D) national advisory board for the Board of Medical Specialty Coding and Compliance (BMSCC) Board HCS-O for OASIS Competency.