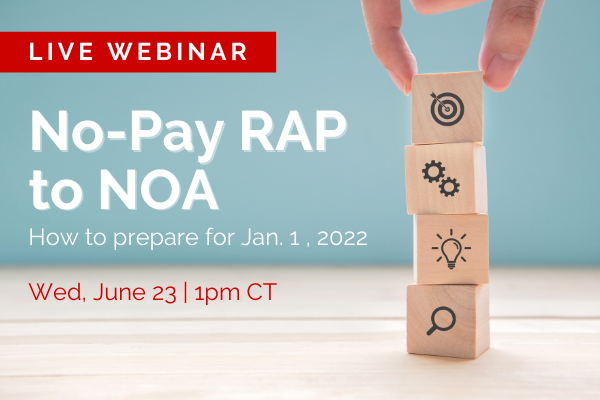 (Live webinar, June 23) No-Pay RAP to NOA: How to prepare for Jan. 1, 2022
Think you had some operational changes to make when the time constraint was added to the No-Pay RAP? Well, we have some more changes as of January 1, 2022. The Notice of Admission (NOA) will be easier in so many ways and the Claims Processing manual has already been updated for this big change.
Join Lisa Selman-Holman for a short, 1-hour webinar as she leads you through the operational changes needed to prepare your agency for Jan. 1, 2022.
*Recording will be available following the live webinar
About the Speaker
Lisa Selman-Holman, JD, BSN, RN, COS-C, HCS-D, HCS-O
Lisa is a veteran of home care with over 30 years spent in home health and hospice, both as an RN and as an attorney practicing exclusively in-home care. She is the President of Selman-Holman & Associates, A Briggs Health Care Company, a full-service home care and hospice consulting firm; CoDR (Coding Done Right), an outsourcing company for home care and hospice coding and OASIS review; and Code Pro U, the premier comprehensive online education for ICD-10-CM, OASIS and home health regulation.
She is the technical editor of the Decision Health Complete Home Health ICD-10-CM Diagnosis Coding Manual. She has provided education to home health and hospice professionals since 1994. She is known for her comprehensive knowledge of home health and hospice regulations and her ability to communicate with insight and humor.
Continuing education
This webinar will award the following continuing education:
1.0 Contact Hour for Nurses & Administrators
Selman-Holman & Associates, A Briggs Healthcare Company is accredited as a provider of nursing continuing professional development by the American Nurses Credentialing Center's Commission on Accreditation.
Questions? Please contact Sarah Bacon via email or dial 214.550.1477 Ext 7.
Speaker
Lisa Selman-Holman

JD, BSN, RN, HCS-D, COS-C, HCS-O, HCS-H, AHIMA ICD-10-CM Ambassador, Founder, Selman-Holman & Associates

30+ years in home care as a RN and Attorney practicing exclusively in home care. Owner, Selman-Holman & Associates, LLC & CoDR-Coding Done Right. Home Care Coding Specialist-Diagnosis (HCS-D) national advisory board for the Board of Medical Specialty Coding and Compliance (BMSCC) Board HCS-O for OASIS Competency.