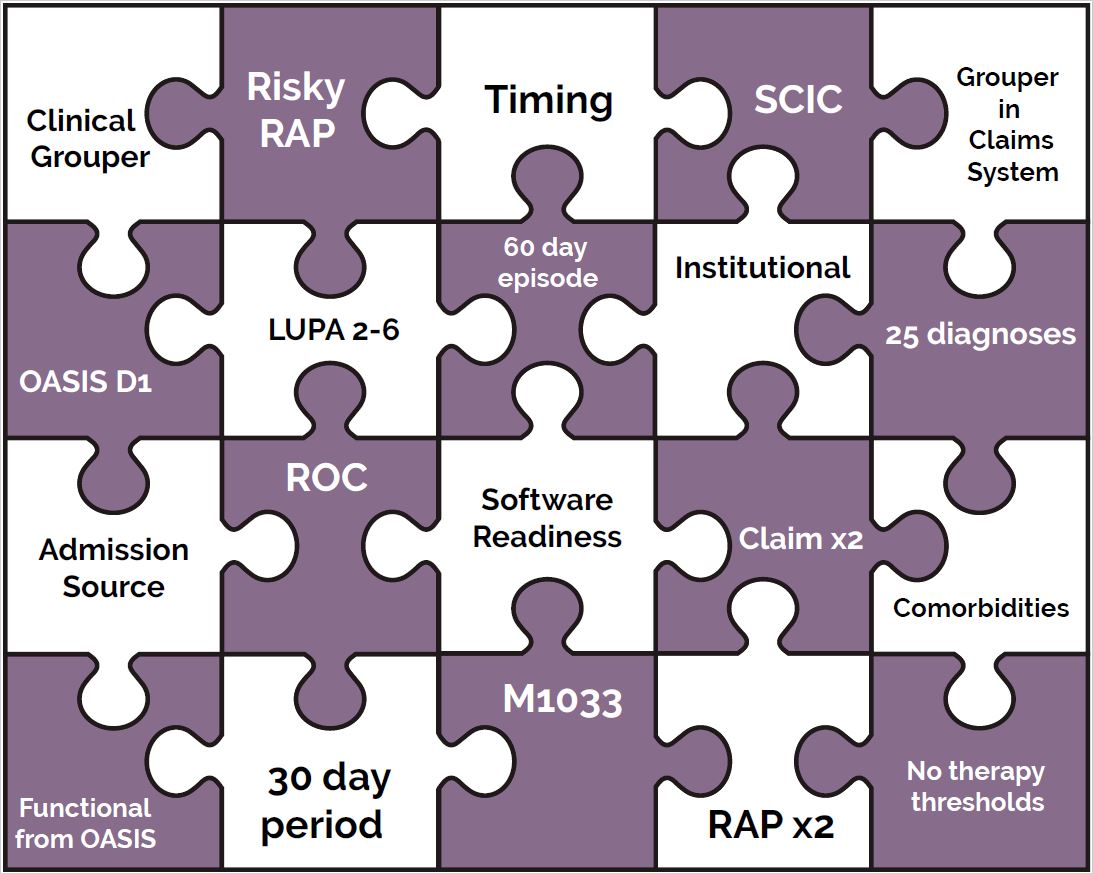 Putting Together the PDGM Puzzle – Denton, TX (In person)
PDGM is the single biggest challenge for home health agencies in 20 years. The last major payment change was in 2000 and 30% of agencies didn't survive that transition. Texas agencies are also coping with the Review Choice Demonstration on top of PDGM – even though there are no new regulations, the timing and submission requirements will place additional pressure on your organization's processes and people!
Join Selman-Holman to learn how to put together the puzzle pieces to power through the transition to the new Patient Driven Grouper Model. Topics will include:
Coding for PDGM – learn how primary and secondary diagnoses will drive payment under PDGM; acceptable primary diagnosis codes and how to cope with diagnoses that will not be allowed; the query process to verify diagnoses that aren't supported by the provider's documentation; and tips to insure your coding processes are ready to meet the timing requirements for PDGM and RCD.
OASIS and PDGM – review the OASIS items used to calculate the functional score in the PDGM equation, with tips for accurate assessment and data collection; update with the changes coming for OASIS-D1; and discuss how the OASIS timepoints (especially the ROC and Other Follow-up) will influence the PDGM payment.
Managing LUPAs in 30 day payment periods; Operational processes for the RAP, the claim and OASIS transmission
Review Choice considerations – meeting the criteria for the F2F documentation and more
Case Management to thrive under PDGM
NOTE: This is the in-person live training class. We are also offering a livestream version of the training, allowing you to attend online from your computer as if you were in the room with our live attendees. To register for the livestream class, click here.
Continuing Education:
13.0 Nursing Contact Hours
13.0 Administrator Hours
10.0 HCS-D Hours
5.0 HCS-O Hours
Selman-Holman & Associates, A Briggs Healthcare Company is an approved provider of continuing nursing education by the Texas Nurses Association, an accredited approver by the American Nurses Credentialing Center's Commission on Accreditation.
Speakers
Lisa Selman-Holman

JD, BSN, RN, HCS-D, COS-C, HCS-O, HCS-H, AHIMA ICD-10-CM Ambassador, Founder, Selman-Holman & Associates

30+ years in home care as a RN and Attorney practicing exclusively in home care. Owner, Selman-Holman & Associates, LLC & CoDR-Coding Done Right. Home Care Coding Specialist-Diagnosis (HCS-D) national advisory board for the Board of Medical Specialty Coding and Compliance (BMSCC) Board HCS-O for OASIS Competency.

Teresa Northcutt

BSN, RN, COS-C, HCS-D, Quality Specialist

Teresa specializes in training on OASIS Assessment. documentation, and coding, focusing on customized education for clinical staff. She has also presented on quality outcome improvement, agency communications and processes, and care transitions for state and regional conferences. Teresa brings comprehensive and contemporary knowledge of home care and quality improvement methods.